Born and raised in Berlin, Anja Krabbe combines all the contrasts of her hometown in one tender, energetic person.
With a grin Anja claims of herself: 'I can do everything…a little bit.' And all it takes is a look at her extensive works-to-date to know that this is true. She has released solo, band and project albums, worked as a composer and lyricist for various pop artists, composed for film and advertising, lent her voice to a wide variety of studio productions and performed countless concerts and tours.
In recent years, Anja Krabbe has been lending her musical passion more and more to composition and lyric writing.
After Anja Krabbe impressed audiences as a vocal soloist in 'YMA-zu schön, um wahr zu sein (YMA-to beautiful to be true)' at Berlin, Germany's Friedrichstadt-Palast in 2010/2011, she moved on to become a member of the creative team, composing and writing lyrics, for the theater's record-breaking show 'SHOW:ME-Glamour is back' (World Premiere 2012) plus the Winter/Christmas Show 'berlinERLEUCHTET' (berlinENLIGHTENED) (World premiere 2011/Revival 2013) as well as the theater's children's theater productions 'Ganz schön anders (Really something different)' (Premiere 2012 / Revival 2014), 'Keinschneechaos (Nosnowchaos)' (Premiere 2013 / Revival November 2015) and `Verrückte Sonne` (Premiere 2017). Anja was also involved in writing more moving and emotion songs for the Friedrichstadtpalast record-breaking show "THE WYLD – Out of this world". That was with 850,000 sold tickets, the most successful show of the Friedrichstadt-Palast til (2014-2016).
In 2016 Anja Krabbe also worked as the musical director and composer for the company "DREAM CRUISES" from Hongkong. The created Show is named "THE VOYAGE OF A LOVERS DREAM" wich is shown in the big theater on the new built cruise ship "Genting Dream".(Worldpremiere 2016 in Guangzhou, Hongkong.). In Oktober 2017 DREAM CRUISES got the READERS CHOICE AWARD 2017 from TRAVEL WEEKLY ASIA in the category BEST CRUISE LINE – ENTERTAINMENT.
In 2017 ans 2018 Anja Krabbe focussed on writing song and lyrics for well known german singers and interesting newcomers. Several records went gold or platin and 3 of the artists were nominated for the german ECHO award.
In 2018 Anja Krabbe signed a publishing agreement mit Budde Music Edition MUM Publishing.
In 2019 Anja Krabbe kept on writing Songs for several succesfull artists and projects. She and her Composers and Producers-Team won the "German Film Music Award 2019" in the category "Best song in Film". The Movie also wan two awards in Kids Film festivals in Germany and San Diego.
Budde press release: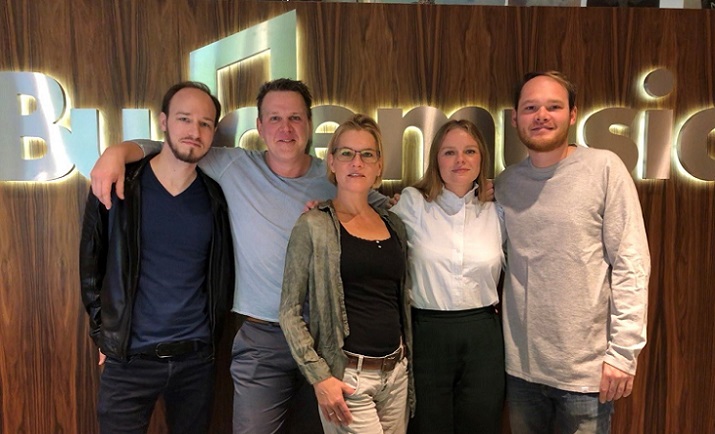 The Berlin-based singer-songwriter has signed a publishing agreement with Budde Music and Edition MUM Publishing. The diverse artist has already released albums solo, in a band and other project. She has lent her voice as a studio singer to various productions. She also played numerous concerts and tours and wrote scores for commercials and films.
Among other things, Anja Krabbe wrote the music, songs and lyrics for all shows of the Friedrichstadt-Palast in Berlin between the end of 2011 and the middle of 2016. The elaborate productions reached a total of over two million visitors. Anja Krabbe also successfully writes songs and lyrics for artists such as Roland Kaiser, Michelle, Luxuslärm and the nominees of the ECHO 2018 Ben Zucker, Maite Kelly and Voxxclub.
Budde Music and Edition MUM Publishing are looking forward to the future cooperation with Anja Krabbe and to many great projects.
Marc Johlen (Senior A & R & Artist Manager, Budde Music): "For many years, Anja has been involved in well-known projects and successes. We are therefore all the more pleased that we are now able to work with her in cooperation with Edition MUM Publishing and target many more great projects. As a songwriter and author, she is essential for numerous songs in the Friedrichsstadt-Palast and is an indispensable part of German pop."
Anja Krabbe: "Music is the engine of my life. Yet for many years I deliberately did not commit myself to a publisher. However, the collaboration with Uli Mücke and the Budde Music team has positively surprised, motivated and inspired me so much that I am very happy to have found a new home for my writing activities in this long-standing family business. I am looking forward to everything we will think up, discover and work on together. "
Press:
Her texts and songs are the day-dreamers instructions to happiness, despite all the shadows.(Frankfurter Allgemeine)
With her expressive organ (voice) she is able to cause, at will, emotions to boil over or melancholy moods. (Tip, Berlin)